Main content starts here, tab to start navigating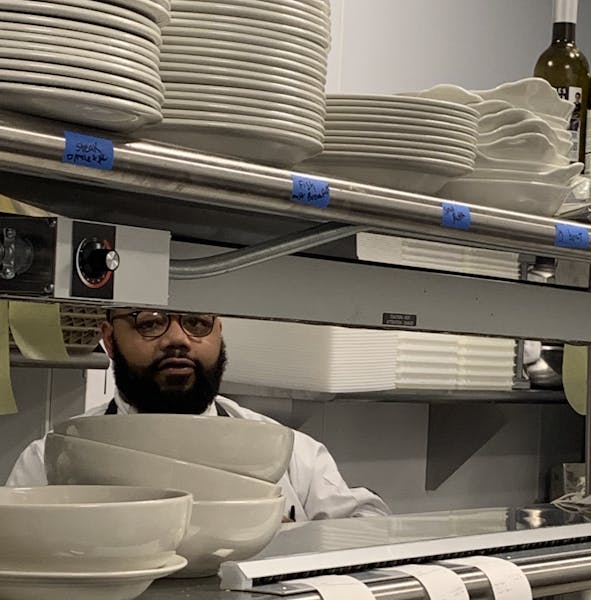 Matthew Bullock
Executive Sous Chef
Growing up in Boston, Chef Bullock was not immediately fated for the kitchen. He credits his early life in a supportive environment despite the challenges of the city as formative. A tight nit family including an older brother and parents who made sure their children wanted for little despite tight resources repeatedly cause him to look back and understand what engagement and support look and feel like and how they make so much possible.
Dipping his toes into the water of corporate career paths, Bullock originally trained in computer network administration at Wentworth Institute for Technology. Realizing quickly that he preferred to design a different future for himself, Bullock gravitated toward the opportunities for personal development, technical craft, and personal responsibility of the professional kitchen.
Without the early experience or specific culinary education of some of his peers, Bullock put his head down and went to work; observing everything he could, and taking advantage of every opportunity to put what he observed into practice. Working the morning shift at a cafe, he would often volunteer to stay late just for the education and experience of being side by side with the more experienced staff, who quickly came to appreciate his potential.
Thus began a consistent and purposeful journey that included hard work, constant attention, and eventually led to opportunities in leadership and the role of Chef de Cuisine at neighborhood gem, Lord Hobo. Not ready to consider his education complete, even with this title under his belt, after a few years Bullock decided to step back and learn again, seeking out new experiences and new perspectives everywhere from high volume kitchens on Martha's Vineyard, to local temple of modernity, Cafe Art Science. Bullock cites the opportunity to travel, especially across the American South, as an important point to develop his understanding and perspective of new ideas in cuisine and an understanding for culture.
Excited to be back in a leadership role, Bullock was drawn to the Peregrine team for the opportunities to explore new and specific cuisines, as well as to be part of leading a program that is committed to the value and careers of everyone on staff, as well as the vendors, farmers, and producers, who help to make it all possible. Additionally, Matthew is passionate about understanding natural wine, record collecting, and Magic: The Gathering...all pursuits that parallel his professional career in the collection of experiences, constantly seeking new understanding and perspective, and regular and purposeful improvement. Chef Matthew Bullock is a founding member of the leadership team at Peregrine.