Main content starts here, tab to start navigating
Menus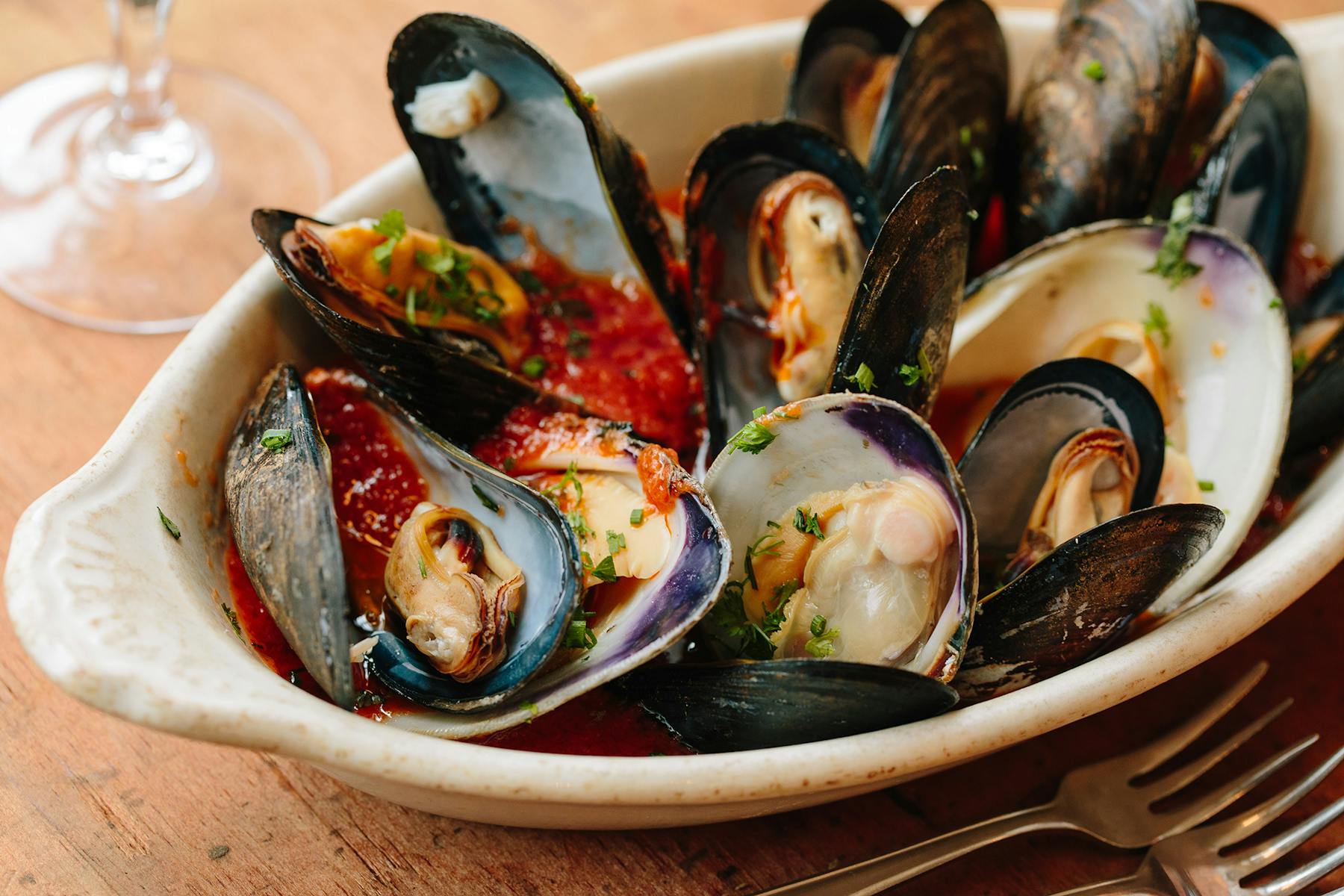 Please note, menus are subject to change based on ingredient availability.
We are open for regular breakfast on Thanksgiving Day, Thursday November 28.
Breakfast will be followed by a traditionally inspired Thanksgiving meal, with accents of the Mediterranean, served between 11:00AM and 9:30PM.
Thanksgiving dinner is a set menu of three courses, with many choices within each course. The menu is $75 per person. The full menu is available in the menus section of our website.
Peregrine is a small dining room, and we expect to be completely booked for Thanksgiving with limited room for walk ins. We would LOVE to celebrate the holiday with you, please consider making your reservations as soon as possible.
Book online, or call us today: 617-826-1762
first courses
Peregrine garlic shrimp

roasted potatoes, sherry vinegar, fresh herbs

turkey liver mousse

cranberry chutney, sherry soaked cherries, dijon

local clam + mussel stew

leeks, white wine, guanciale

mixed greens salad

roasted squash, puffed rice + seeds
main courses
free range turkey roulade

sage + chestnut focaccia dressing, potato puree, gravy

heritage breed local pork

farro, celery root, radicchio

pan roasted bluefish fra diavolo

Catalonian ratatouille, eggplant

hand-made pappardelle

mushrooms, squash, pecorino
Dessert
Dessert will be a selection of seasonal house-made pies and tarts
Breakfast: 6:30am-10:30am | Lunch 11:00am-2:00pm | Dinner 5:30pm-9:30pm
Quick
pastries

fresh daily w. jam, + cultured butter

Thick Yogurt

w. local honey

$9

add granola $2

fresh fruit $4

Smashed Chickpeas on Toast

caramelized onions, pepperoncino

$9

tomato bread

Spanish style, a house favorite

$9

add soft boiled egg $2
Eggs
piccola qualcosa

2 soft boiled eggs, toast for dipping, served with Sicilian olive oil and black olives

$18

Make it complete | w. Jamon Serrano, Parmigiano-Reggiano, or tuna conserva $6

3 Any Style

served with toast

$16

Omelette Francese

parmigiano + breadcrumbs or pecorino + mushrooms

$17

Spanish tortilla

Shaved vegetables, saffron aioli

$14
Americano
Buckwheat Pancakes

Maple syrup, cultured butter

$16

add fresh berries $3

or dark chocolate $3

L.E.S.

Iggy's bagel, New York salmon, wasabi cream cheese, flying fish roe, capers, red onion

$15

B.E.C.

egg on croissant, w. cheddar, braised bacon

$14
Sides
Caramelized Grapefruit

$4

Toast

W. olive oil or butter

$3

2 Eggs Any Style

$6

Roasted Potatoes

$8
Breakfast: 6:30am-10:30am | Brunch 10:30am-2:00pm | Dinner: 5:30pm-9:30pm
For the table
to share or two begin
house salad

fresh greens and herbs, anchovy/caper vinaigrette, puffed rice, toasted seeds

$15

local mussels and clams with roasted potatoes

served "pommidoro" style w. tomato, olive oil, and white wine

add soft boiled egg

add jamon Serrano

toast and spreads (also available individually)

tomato bread chickpea and pepperoncini cloumage with chili and honey

$18

soft boiled egg $2
Brunch Plates
Pomodoro Baked Eggs

Tomato sauce, parmigiano, chili flake, balsamico

Salumi and Truffle Scramble

Butcher's ends, Sardinian truffled cheese

$18

Omelette Francese

w. pecorino + breadcrumbs, dijon

$18

Spanish Omelette

In Catalonia,` they call this a strout...really

$8

Add smoked trout roe

penne + bacon

white beans, wine, butter

$19

piccola qualcosa

2 soft boiled eggs w. dipping toast, and black olives

$18

make it completa: add Jamon Serrano, Parmigiano-Reggiano, or tuna conserva $6

steak + eggs

Peregrine steak, 2 eggs any style, rosemary garlic potatoes, aioli

$31

smoked salmon

Iggy's bagel, New York salmon, wasabi cream cheese, flying fish roe, capers, red onion

$15
Sandwiches
all served with sherry vinegar dressed greens
Meatball Sub

$16

Peregrine burger

hot peppers, garlic aioli, house focaccia bun

$16

Serrano + Tomato

With hot peppers

$17
Contorni
Rosemary Garlic Potatoes

Baked Tomatoes

With breadcrumbs

Palermo street salad

white beans, celery, herbs, lemon, black olive

caramelized grapefruit
Breakfast: 6:30am-10:30am | Lunch 11:00am-2:00pm | Dinner 5:30pm-9:30pm
Snacks
warm marinated olives

$8

Marinated Mushrooms

$8

Radishes and Butter

Olive oil, herbs, black olive

$7

Focaccia

With butter and salted anchovy

$4

Parmigiano - Reggiano

With local honey

$10

Market Vegetables

Garlic, lemon, olive oil

$10
Antipasti | Salumi | Crudo
Jamon Serrano

$10

Pork Terrine

$10

Liver Mousse

Above served with mustard, toast, cornichon, pickled onions

$9

Pickled Gulf Shrimp

$8

Marinated Chatham Mussels

$7

Herb and Garlic Baked Oysters

For (3) $9
Appetizers
Kale Caesar

Bagna Cauda

Seasonal raw and roasted vegetables with anchovy caper butter

$15

Polenta

Pepperoncini, artichoke, pecorino

$12

Omelette

With pecorino + breadcrumbs

$13

Add Jamon Serrano $6

Sicilian Style Pizza

tomato, parmigiano, preserved lemon | or daily special

$13

Catalonian Tomato Bread

With pepperoncini, Jamon Serrano, chili flake

$14

Garlic Gulf Shrimp

With roasted potato

$17
Pasta
pappardelle. braised chicken, breadcrumbs, seasonal vegetables, cloumage

$13

$24

black pepper + truffle tagliatelle al vongole

$16

$31

lemon + herb farfalle. spring peas, turmeric, horseradish, guanciale

$15

$28
Contorni
rosemary garlic potatoes

$8

tomatoes baked with breadcrumbs

$8

mixed greens + herb salad w. seeds and puffed rice

$8
Dessert
cheese

Each $9

mint panna cotta w/ chocolate + pistachio

$10

Catalonian cheesecake

$10
Breakfast: 6:30am-10:30am | Lunch 11:00am-2:00pm | Dinner 5:30pm-9:30pm
Snacks
Warm Marinated Olives

$8

Marinated Mushrooms

$8

Radishes and Butter

Olive oil, fresh herbs, black olive

$7

Focaccia

With butter and salted anchovy

$4

Parmigiano - Reggiano

With local honey

$10

Market Vegetables

Garlic, lemon, olive oil

$10
Antipasti | Salumi | Crudo
Italian and Catalonian styles
Jamon Serrano

$10

Pork Terrine

$10

Liver Mousse

Above served with mustard, toast, cornichon, pickled onions

$9

Pickled Gulf Shrimp

$10

Marinated Chatham Mussels

$7

Herb and Garlic Baked Oysters

For (3) $9
Appetizers
Kale Caesar

Bagna Cauda

Seasonal raw and roasted vegetables with anchovy caper butter

$15

Polenta

Pepperoncini, artichoke, pecorino

$12

Omelette

With pecorino + breadcrumbs

$13

Add Jamon Serrano $6

Sicilian Style Pizza

tomato, parmigiano, preserved lemon | or daily special

$13

Catalonian Tomato Bread

With pepperoncini, Jamon Serrano, chili flake

$14

Garlic Gulf Shrimp

w. roasted potato + sherry vinegar

$17
Pasta
selections rotate regularly, 2-3 available per day
pappardelle. braised chicken, breadcrumbs, seasonal vegetables, cloumage

$13

$24

black pepper + truffle tagliatelle al vongole

$16

$31

paella di Alghero. fregola, lobster, mussels, black olive

$17

$32
Secondi
wild Chatham mussels and local clams in tomato, olive oil, and mint

$29

Pete and Jen's Backyard Birds roast chicken

farm fresh vegetables, saffron rosemary sauce

$34

Hake

corn, cherry tomato, black olive

$34

bisteca. rosemary garlic potatoes, shallots, fennel seed, roasted garlic aioli

$35
Contorni
rosemary garlic potatoes

$8

tomatoes baked with breadcrumbs

$8

mixed greens + herb salad w. seeds and puffed rice

$8
Dessert
cheese

Each $9

mint panna cotta w/ chocolate + pistachio

$10

Catalonian cheesecake

$10