Main content starts here, tab to start navigating
Menus
Juliet + Company restaurants are closed to seated food and beverage service, by state mandate, at this time. We are serving room service to hotel guests only, breakfast from 7am to 9am and dinner 6pm to 8pm.
For the public, we have a nightly takeout option available, we send an email daily with the menu for pre order though our website. You can join that email list (separate from our regular email list), here.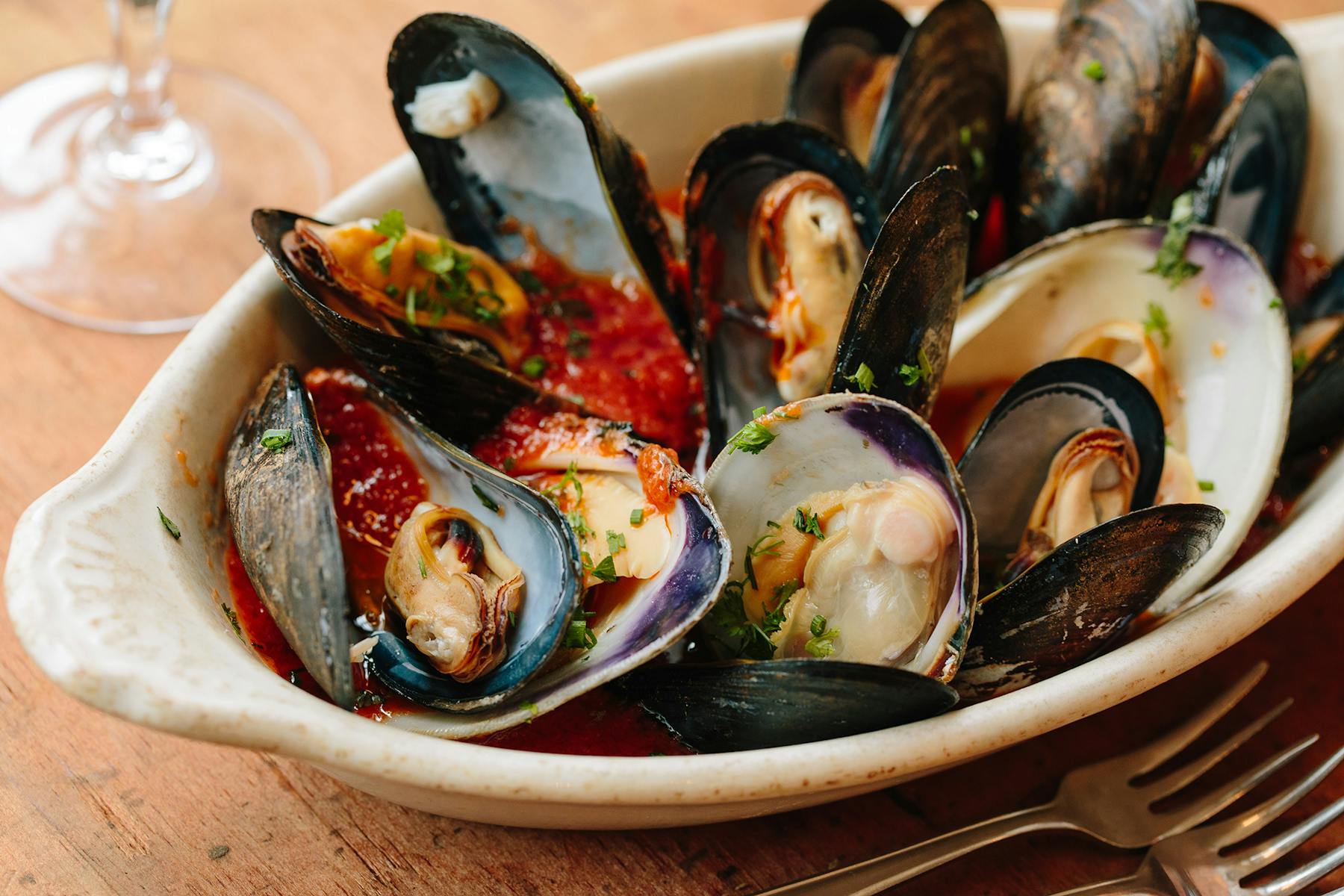 Peregrine is closed to seated food and beverage service at this time, by state mandate. In room dining is available to hotel guests, during limited hours.
Breakfast: 7am - 9am
Dinner: 6pm - 8pm
Breakfast Served daily, 7am - 9am Please dial the front desk to order (hotel guests only)
Greek Yogurt

w. honey + olive oil

$10

granola $2

Piccola Qualcosa

2 soft boiled eggs, toast, olive oil, black olives

$14

Spanish ham $6

Parmigiano-Reggiano $6

3 eggs any style

w. toast, butter, jam

$16

French omelette

pecorino, breadcrumbs, dijon mustard, toast

$17

smoked salmon bagel

Iggy's plan bagel, salmon, wasabi cream cheese, red onion, wasabi fish roe

$17
Dinner served daily, 6pm - 8pm Please dial the front desk to order (hotel guests only)
marinated olives

$9

marinated mushrooms

$9

parmigiano-reggiano

w. local honey

$14

mixed greens salad

puffed rice, toasted seeds, sherry vinegar dressing

$8

mixed antipasti

meats, cheeses, marinated seafood, olives

$30

Sardinian Sub

heritage breed sliced turkey, Spanish ham, Provolone, Grana padano, olive + pepper relish, tomato, oil, vinegar

$18

burger

olives, peppers, garlic aioli

$18

pasta pomodoro 24

house-made tomato sauce, w. Grana Padano

$24
Peregrine is featuring a Sicilian inspired Passover prix fixe menu for the holiday, served on Wednesday April 8, and Thursday April 9.
Passover at Peregrine is intended as a meal to celebrate family and tradition, but does not include any seder or religious specific elements.
Peregrine will present food and recipes that respect Kosher traditions, but is not a Kosher kitchen, and our regular a la carte menu will continue to be served at the same time.
The Passover menu is served in three courses, plus some extra surprises, for $70 per person
Peregrine is a small dining room with limited seating, the Passover menu is available to anyone, but reservations are HIGHLY ENCOURAGED.
Our Passover menu reflects a collaboration between Joshua Lewin and Peregrine sous chef Noah Clickstein
For the Table
Patchwork Farm Spelt Matzoh

served "companatico" w. charoset + shepherd's butter
First courses
choice of one
matzoh ball soup

chicken consomme, mirepoix

chopped liver

crispy chicken skin, parsley oil
main courses
choice of one
Sephardic Lamb

slow cooked lamb, crispy leaves of potato, spring dug vegetables

Saffron Roast Chicken

young turnips; roasted in garlic oil, + pickled
Dessert
choice of one
Turkish Apple Cake

candied orange, olive oil gel

Chocolate covered matzoh napoleon

coffee mascarpone, chocolate and caramel covered matzoh
Optional Course
served between first and main courses
matzoh brei

soft scrambled eggs, ramps, smoked trout roe

$15

gefilte fish

local catch, en terrine, celery leaf and radish salad, aspic

$15
Easter and Mother's Day Brunch are served as a two-course prix fixe menu for $38 per person.
Peregrine is a small dining room with limited seating, reservations are highly recommended if you would like to join us for these services!
first courses
spring vegetable salad

chicken liver mousse

w. traditional accompaniment

Greek style yogurt

w. fresh fruit + granola

creamy tomato soup
main courses
omelette francese

pecorino, breadcrumbs, dijon

scrambled eggs

w. Jamon Serrano + black truffle pecorino

farfalle primavera

fresh vegetables, white wine, Grana Padano

spaghetti bolognese

haddock

w. morels + peas

braised lamb shoulder

garlic roasted potatoes, asparagus
optional: to begin
antipasti for two

$18

breads + spreads

$25
optional: dessert
Catalan cheesecake

w. sherry soaked cherries

$10

chocolate cake

w. ricotta + lemon

seasonal fruit tart

$10

Sicilian cookie plate

$10
Breakfast: 8:00am-10:30am* | Lunch 11:00am-2:00pm | Dinner 5:30pm-9:30pm
a continental breakfast option is available between 6:00 - 8:00am
Quick
fresh pastries

fresh daily w. jam, + cultured butter

Thick Yogurt

w. local honey, olive oil, lemon zest

$10

add granola $2

add fresh fruit $4

overnight oats

w. cherries + cocoa nibs

$10

Smashed Chickpeas on Toast

caramelized onions, pepperoncini

$10

tomato bread

Catalan style, a house favorite

$9

add soft boiled egg $2

Cloumage toast

w. honey, + chili flake

$10
Eggs
piccola qualcosa

2 soft boiled eggs, toast for dipping, served with Sicilian olive oil, black olives, + green salad

$14

Make it complete | w. Jamon Serrano, Parmigiano-Reggiano, or tuna conserva $6

3 Any Style

cooked house-style w. herbs + lemon zest, served w. toast, butter, + jam

$16

Omelette Francese

parmigiano + breadcrumbs, or pecorino + mushrooms served w. toast + dijon

$17
Americano
Buckwheat Pancakes

Maple syrup, cultured butter

$16

add fresh berries $4

or dark chocolate $3

L.E.S.

Iggy's bagel, Hudson Valley smoked salmon, wasabi cream cheese, flying fish roe, capers, red onion

$17

B.E.C.

bacon, over easy eggs, cheddar cheese, on croissant

$14
Sides
Caramelized Grapefruit

$4

Toast

w. butter + jam

$4

2 Eggs Any Style

$8

Roasted Potatoes

$8
Breakfast: 8:00am-10:30am | Brunch 10:30am-2:00pm | Dinner: 5:30pm-9:30pm
to start
pastries

plain + chocolate croissants, w. butter + jam

$15

overnight oats

w. cherries + cocoa nibs

$10

toast and spreads (also available individually)

tomato bread chickpea and pepperoncini cloumage with chili and honey

$25

soft boiled egg $4
Brunch Plates
Pomodoro Baked Eggs

Tomato sauce, parmigiano, chili flake, balsamico

Salumi and Truffle Scramble

butcher's ends, Sardinian truffled cheese

$17

Omelette Francese

w. pecorino + breadcrumbs, dijon

$18

penne + bacon

white beans, wine, butter

$19

piccola qualcosa

2 soft boiled eggs w. dipping toast, and black olives

$18

make it completa: add Jamon Serrano, Parmigiano-Reggiano, or tuna conserva $6

steak + eggs

Peregrine steak, 2 eggs any style, rosemary garlic potatoes, aioli

$31

smoked salmon

Iggy's bagel, New York salmon, wasabi cream cheese, flying fish roe, capers, red onion

$15
Sandwiches
all served with sherry vinegar dressed greens
BEC

bacon, over easy egg, cheddar cheese, on Liz's English muffin

$14

Peregrine burger

hot peppers, garlic aioli, house focaccia bun

$16

Sardinian sub

$17
Contorni
Rosemary Garlic Potatoes

Baked Tomatoes

With breadcrumbs

Palermo street salad

white beans, celery, herbs, lemon, black olive

caramelized grapefruit
Breakfast: 8:00am-10:30am | Lunch 11:00am-2:00pm | Dinner 5:30pm-9:30pm
Snacks
warm marinated olives

$9

Marinated Mushrooms

$9

Radishes

cultured butter, olive oil, herbs, black olive

$9

Focaccia w. anchovy

cultured butter, herbs, lemon

$6

Sicilian Style Pizza

tomato, parmigiano, preserved lemon | or daily special

$11

Parmigiano - Reggiano

With local honey

$14

roasted potatoes

rosemary, garlic, olive oil

$8
Antipasti | Salumi | Crudo
Jamon Serrano

$10

Pork Terrine

$10

Liver Mousse

Above served with mustard, toast, cornichon, pickled onions

$9

Pickled Gulf Shrimp

$8

Marinated Chatham Mussels

$7
Appetizers
creamy tomato soup

w. breadcrumbs

$12

green salad, w. puffed rice + toasted seeds $4

celery hearts victor

anchovy garlic marinade, bread crumbs, herbs, soft boiled egg

$15

locally ground polenta

pepperoncini, puntarelle, pecorino

$13

Catalan Tomato Bread

w. pepperoncini, jamon Serrano, herbs + lemon

$14

sea urchin - saffron butter $4

Garlic Gulf Shrimp

With roasted potato

$17

panisse

pan fried chickpea cake, delicata squash puree, honey

$13

duck confit

salsify, verjus, persimmon, radish

$17
Pasta
gluten free pasta and additional vegetarian options always available
spaghetti

butternut squash, wild mushrooms

$14

$27

fregola

braised beef, kale, breadcrumbs, chili oil

$15

$28

farfalle

duck + pistachio sausage, red wine cream sauce

$15

$28
Sandwiches
Sardinian ("Italy's Barcelona) sub

heritage breed sliced turkey, jamon Serrano, provolone, grana padano, olive + pepper relish, tomato, oil + vinegar

$18

Peregrine burger

olives, peppers, garlic aioli

$18

fish sausage sandwich

merguez style fish sausage, lemon-caper aioli, radicchio

$15
salads
mixed greens + herbs

puffed rice + toasted seeds, sherry vinegar, olive oil

$10

Kale Caesar

roasted cabbage, grana padano, espelette croutons, anchovy + caper vinaigrette, boquerones

$13

radicchio

pecorino, vermouth soaked raisins, sherry + balsamic vinaigrette

$12
Dessert
cheese

Each $9

mint panna cotta w/ chocolate + pistachio

$10

Catalonian cheesecake

$10
Breakfast: 8:00am-10:30am | Lunch 11:00am-2:00pm | Dinner 5:30pm-9:30pm
Snacks
Marinated Mushrooms

$9

Radishes

cultured butter, olive oil, fresh herbs, black olive

$9

Focaccia + anchovy

cultured butter, lemon, herbs

$6

Parmigiano - Reggiano

w. local honey

$14

Sicilian style pizza

thick crust w. pomodoro, grana padano, preserved lemon, basil

$11

Warm olives

$9
Antipasti | Salumi | Crudo
Italian and Catalonian styles
Jamon Serrano

$12

jamon Mangalica

$18

tuna conserva

$10

duck plate

cherry pistachio pate + liver mousse, w. traditional accompaniment

$15

Sicilian sashimi

traditional techniques, Peregrine flavors

$22
Appetizers
kale caesar

roasted cabbage, grana padano, espelette croutons, boquerones, anchovy + caper vinaigrette

$13

Catalan tomato bread

jamon Serrano, pepperoncini, chili

$14

sea urchin - saffron butter $4

radicchio salad

pecorino, vermouth soaked raisins, sherry + balsamic vinaigrette

$12

panisse

pan fried chickpea cake, pecorino, delicata squash, honey

$13

celery tonnato

anchovy garlic marinade, breadcrumbs, tuna dressing, herbs

$15

Garlic Gulf Shrimp

w. roasted potato + sherry vinegar

$17

locally ground polenta

pepperoncini, puntarelle, pecorino, chili flake

$13

duck confit

salsify, verjus, persimmon, radish

$18

Sicilian style charred cauliflower

honey, Cloumage, caper, sardine + raisin dressing

$15
Pasta
selections rotate regularly, 2-3 available per day
pappardelle.

braised chicken, pistachio, brussels sprouts, Cloumage, breadcrumbs

$26

paella di Alghero.

clams, mussels, shrimp, fish sausage, black olives, w. pearled pasta

$29
Secondi
roasted Green Circle chicken

wild mushrooms, delicata squash, persimmon, saffron rosemary sauce

$34

duck breast

root vegetable + giblet hash, fried farro, bitter orange

$34

Peregrine steak

rosemary potatoes, roasted garlic, kombu-sherry butter

$35

wild Chatham mussels, + clams

served "Pommidoro" style, w. tomatoes, roasted potatoes, mint

$29
Contorni
rosemary garlic potatoes

$8

puntarelle salad

espelette, miso-lemon vinaigrette

$8

market vegetables w. breadcrumbs, garlic, lemon, olive oil

$8

mixed greens + herb salad w. seeds and puffed rice

$10