Main content starts here, tab to start navigating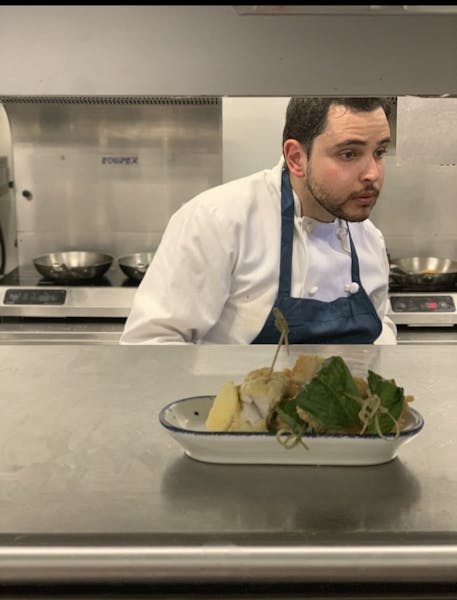 Noah Clickstein
Sous Chef
Noah Clickstein grew up just outside of Boston, in Winchester, in a self described "highly cultural and semi-religious Jewish home." He largely credits his family's commitment to the communal and cuisine elements of these traditions to have sparked his long time love of cooking and sharing food. Although he would otherwise never describe his parents as strict...their values around food, made by hand in the home, and shared purposefully are another story altogether.
Supportive parents in tow, Clickstein made the obligatory college visits during his Junior year of high school, but his fate was set the moment the car pulled into the driveway at the Culinary Institute of America. Those parents voiced an alternate perspective, but there was no arguing with the values they had already instilled, and learning the foundations of, preparing professionally, and shaping the way people experience food in their lives emerged as Noah's fate.
Outside of the professional kitchen, Clickstein's hobbies remain mostly dominated by the further exploration of the information and background behind cooking practices, but also include quality time in the outdoors and both the practice and appreciation of music. Additionally, Clickstein is also a well trained and passionate dining room server, having cut his teeth at the late, great, Boston landmark, L'Espalier, where he counts Tea Sommelier Cynthia Gold, and maitre'd (and cheese guru) Louis Risoli among his most important mentors.
A long time Juliet + Company staff member, Clickstein served as the sous chef, as well as an early shaper of dining room service programs, for the company's flagship, Juliet, before joining Peregrine as a founding member of the culinary team.
Love for the industry and its practical aspects aside, Clickstein actively notes mounting negative aspects of the restaurant business, ranging from sustainability issues in agriculture and industry, to the ever present realities of how people are respected, valued, and treated at work. Adamantly seeking a better way to understand, manage, and cultivate strong and supportive programs at work, Clickstein has long been enthusiastic about the work that he is a central part of at Juliet + Company and Peregrine.